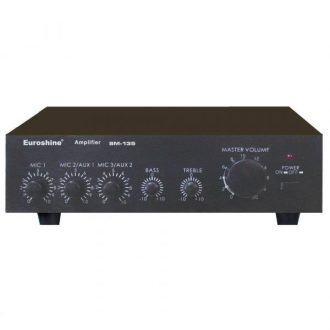 Broadcast amplifier Euroshine SM-135.
Broadcast compact amplifier, 35W, 3 microphone inputs, 2 aux. output : 70/100V or 4/8 ohm.
 RMS power  : 35W.
 Input power : 70/100V.
Quantity of mono outputs: 3.
Number of stereo outputs: 2.
  RF frequencies: yes.
   Midrange control: -.
Bass control: yes.  Height: 2U.
  Dimensions (packed): 290x196x76 mm.
 Weight (packed): 4.4 kg.